Renting is about trust.
Meet the new gold standard.
Introducing
The single profile that helps great tenants shine so landlords and property professionals can find their perfect match.
Verified identity, comprehensive credit report, 3 months bank statements, rental affordability (all direct from source) and references come together in one safe and easy-to-use space.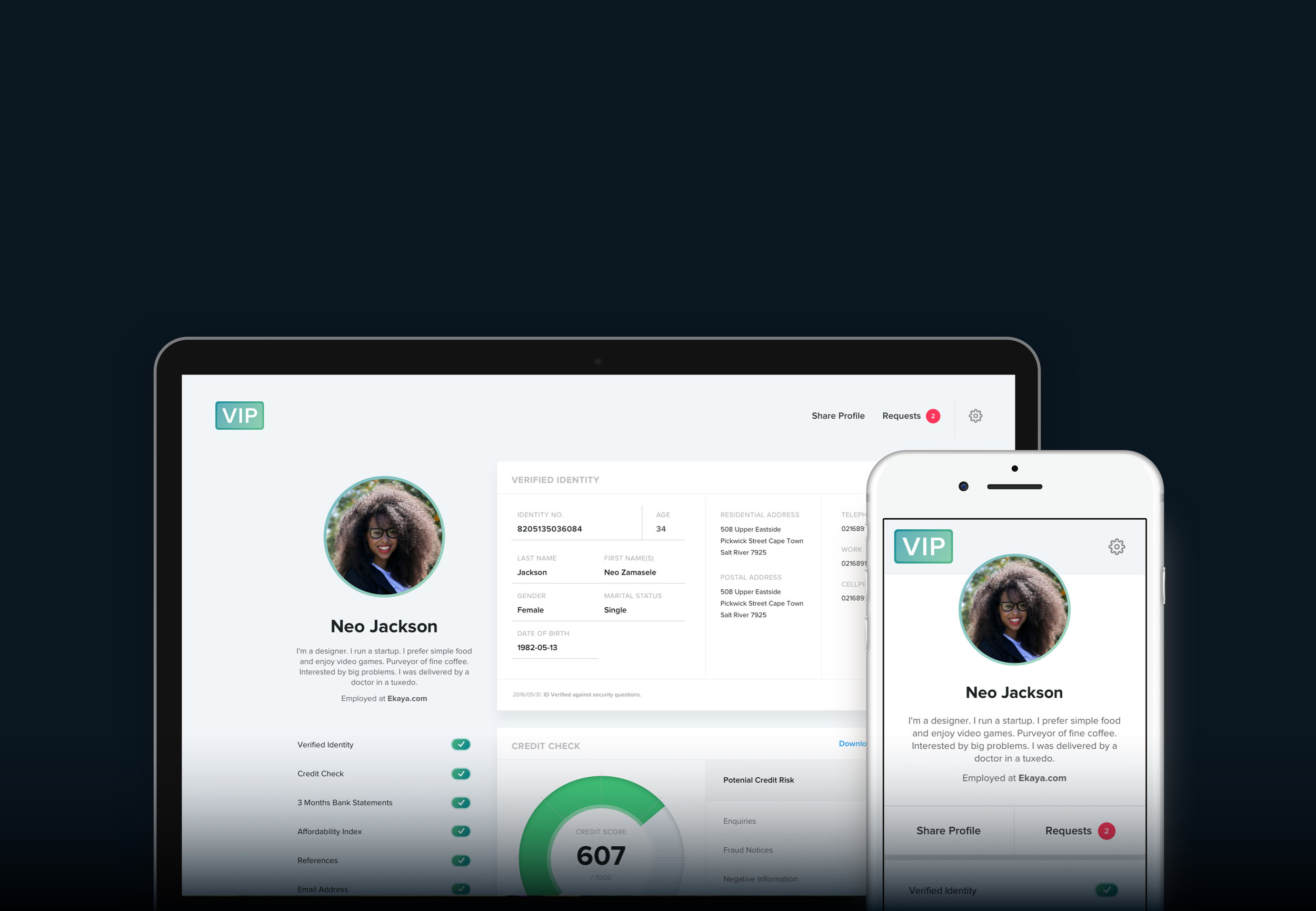 It's like a rental application.
But totally different.
A platform to shine.
The VIP Profile is designed to help great tenants showcase themselves in order to help landlords and property professionals find the best tenants for their properties.
Completely digital.
There's no paperwork here. VIP digitally verifies identity, credit and affordability data - directly from the source. Plainly put - VIP is safer, faster and more environmentally friendly than traditional application methods.
Secure & fully compliant.
VIP features best-in-class security and encryption to enable information to be shared with confidence. Our consumer-driven design keeps tenants in control of their own data and makes VIP fully compliant.
Built for trust in an online world.
The rental relationship most often begins in a noisy online environment. VIP is built to help people connect with confidence through the safe transmission of verified information.
VIP's revolutionary design collects and verifies all the information typically required during the rental application process and brings it all together in single, secure Profile. All in under 10 minutes.
One Profile.
Unlimited rental applications.
Complete your VIP Profile for R99 and use it to apply for as many properties as you want.
Connecting with VIP.
It's as simple as sending a message.
Once a tenant creates their VIP Profile, it's as easy as hitting "Share" where they can either enter the email address of someone they want to share directly with, or copy their unique link and paste in a message, email or even an SMS.
 
With VIP Request you simply invite any potential tenant to share their VIP Profile with you. Once they accept your Request, we'll send you an email with a link to view their Profile online. It's 100% free to Request.
 
You're always in control.
We take your privacy very seriously - nothing is shared with anyone, unless you decide to share it yourself.
Our privacy controls also enable you to fine-tune who can see what.
In renting,
speed is everything.
In fact, 75% of the time, the speed of completing a strong application is the critical factor in a successful rental application. VIP enables tenants to back up their interest in a rental property within minutes.
Everything you need to start renting, right away.
Verified Identity
Successful renting begins with trust. VIP turns random Internet strangers into names and faces so that you can feel more confident in your rental dealings.
Comprehensive Credit Report
We are more than a score, we work with industry leaders Compuscan to produce amazingly detailed, yet easy to understand credit reports for VIP tenants.
Optimal Affordability Index
In these tough times it's important to consider the long term affordability of a rental. VIP uses clever math to help determine an affordability range to protect both the tenant and landlord.
90-day Bank Statements
Forget the stacks of paper statements. VIP connects directly to the banks to quickly and securely download and process tenants bank statements. Think of all the trees we'll save.
Fine Privacy Control
Tenants are kept in full control over their information and can easily control who can see what on their VIP Profile with public, private and full view modes available.
National Secret-level Security
The security of information is our top priority which is why VIP uses 256-bit AES (Rijndael) encryption to protect your data. That's top secret level stuff, but it's just business as usual with VIP.
Note: Verified ID and Comprehensive Credit Report require an RSA identity number.
Ready to get started?
Great! If you're a tenant, we'll guide you through the process of creating your very own VIP Profile. If you want to request a VIP from a prospective tenant, simply press Request VIP to get going right away.
Safe as houses.
We are committed to safeguarding your private and sensitive data by handling it in the most secure way possible.